Today ShutDown Jobs
QATAR ' QCON SHUTDOWN ' FREE RECRUITMENT
Post Title
QCON QATAR SHUTDOWN SHORT TERM
Job List and Description Text
supervisors( static-mechanical)/foreman(mechanical)/supervisors safety/hole watch/supervisor safety watch/manhole watch/supervisors fire watch/fire watch supervisor (mechanical-static)/PTW coordinator/fitter(tray)/torqueing technician/mechanical technician/millwright technician/structural fitter.

SUPERVISORS MUST HAVE DIPLOMA/FORMAN&TECHNICIANS MUST HAVE ITI

MIN:-3YRS EXPERIENCE IN OIL &GAS/REFINERIES/PETROCHEMICALS.
Walk-In-Interview in
CHENNAI
Jobs at
QATAR
Interview Address and Contact Details
040-40024830
Email
[email protected]
Interview Date
 30/12/2020
SHUTDOWN JOBS. Qcon Company shutdown jobs in Qatar. Latest updated jobs in qcon Qatar .one of the leading company in Qatar having following positions for shutdown jobs.
LARGE REQUIREMENTS / SHORTLISTING  IN PROGRESS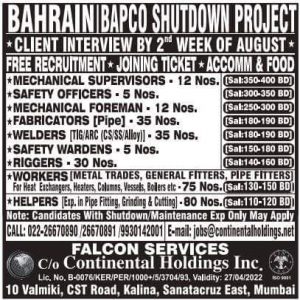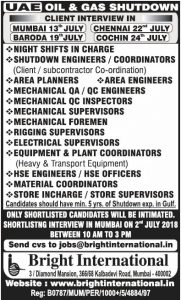 Shut Down Managers: B.E. with 20 years experience in oil and gas maintenance work. Executed minimum 3 shutdowns. last 5 years in a Manager position. Overall responsibility of shutdown arranging manpower tools machinery planning. Primavera / CMMS Software.Aware of Contractual obligations Controlling Staff and labor around 3000.
Shift Managers (shutdown Manager): Dip./ B.E.Mechanical minimum 15 years experience (10 years as Supervisory & 5 Years as Superintendent) in maintenance work in Petrochemical industry/ Refining industry. heading group of 50 Engrs. / Supervisors and contractors Manpower. Maintenance of Process Equipment. welding techniques. welding tools and Equipment, testing and quality control measure International Codes & MS Office. Conversant with the Contract and the Contracting System.
Mechanical Superintendents: B.E / DME with more than 15 years experience in maintenance work in Petrochemical or Petroleum Refining industry. OTHERS SAME As ABOVE.
Mechanical Area/Unit Coordinators: B.E. / DME with minimum 10 years experience in refinery / Petrochemical maintenance. Leading 10 engrr. /supervisors.Responsible for managing a distinct area. OTHERS SAME AS ABOVE.
Mechanical Supervisors: DME with more than 1oyears experience in mechanical maintenance works in petrochemical or Power Generation industry of which at least 5 years have been performed in the role of a Mechanical Supervisor. Static, Rotary Maintenance and piping work. Execution QA/ QC / HSE compliance audits on-site procedures and HSE Plans.
HSSE Coordinators: BSc. / Graduate With NEBOSH with10 years experience (minimum 5 years experience in Gulf) Shutdown work. Minimum 2 years HSSE coordinator. MS office Max Age 45.
HSSE Inspector/Officers: 50 Nos.: Graduate with NEBOSH / OSHA 5 to 7 years experience (2 years Gulf Experience) in Oil & Gas industry with maintenance shutdown experience.
Candidates may visit our office with the copy of typed Resume, original and photocopy all documents / passport and 2 copies of the latest photograph or send the same by email / courier
Contact details
J.M.MEHTA &CO.
Oasis Building. Near Vakola Municipal Market.Vakola, Santacruz (E), Mumbai – 400 055
Website: www.jmmehta.com – Email: [email protected]
jm mehta interview
qcon shutdown
qcon qatar shutdown job 2018
qcon shut down interview
qcon shutdown 2018
qcon interview in mumbai
qcon shutdown interview 2018
qcon shutdown interview 2017
qcon qatar job vacancies
qcon job vacancies
qcon shutdown interview 2016
qcon abu dhabi shutdown
qcon qatar shutdown job
qcon qatar shutdown job 2016
jm mehta travels jobs
j.m.mehta for manpower recruitment
qcon qatar hr manager
ets qatar shutdown 2017
qcon jobs
jm mehta recent job openings
united gulf pipe manufacturing co llc
qcon abu dhabi shutdown 2017
jm mehta vacancy in gulf
mullaji placement consultancy
shutdown jobs in gulf 2018
shutdown jobs in gulf countries
rasgas shutdown 2018
qcon qatar careers
qcon
qcon qatar logo
qcon qatar vacancies
qcon qatar shutdown job 2017
q-con qatar
qcon shutdown interview
jm mehta vacancies
qcon company qatar
qcon qatar
qcon shutdown 2017
jm mehta
www.jmmehta.com
j m mehta & co
shutdown jobs in qatar 2018
qcon adgas shutdown 2017
qcon qatar jobs
q con qatar