Gulf Job interview in Patna
GULF JOB INTERVIEWS IN PATNA TODAY VACANCIES
Here we will provide the latest gulf job interview details at Patna location. The complete update for gulf job seekers to find gulf jobs about gulf consultants in Patna and office in Patna .., check the below-given images to get full information on gulf jobs.
Post Title
URGENTLY REQUIRED FOR SAUDI ARABIA
Job List and Description Text
PIPE FITTER/ PIPE FITTER, PIPE WELDER, STRUCTURAL FITTER, SCAFFOLDER, RIGGER (LEVEL 1,2, 3), MILL WRIGHT FITTER, INDUSTRIAL ELECTRICIAN, INDUSTRIAL ELECTRICAL, INSTRUMENT TECHNICIAN/ FITTER, SPRAY PAINTER/ SAND BLASTER, AC TECHNICIAN/ AUTO AC MECHANIC, MECHNIC- HEAVY/ LIGHT, HYDRA CRANE OPERATOR, SKILL LOADER OPERATOR, FORKLIFT OPERATOR, MANLIFT OPERATOR, MATERIAL MANAGER/ ENGG. / CONTROLLER, FOREMAN (CIVIL/ MECHANICAL) THOSE SALARYS ARE BASED ON EXPERIENCE.

FOOD AND ACCOMMODATION PROVIDED BY COMPANY, 5 YEARS EXPERIENCE MUST.
Walk In Interview in Patna
Jobs at Saudi Arabia
Interview Address and Contact Details
AL-KAMRAN OVERSEAS PVt. Ltd

office no- 02 firest floor, kalawati compleex, opp- bank of India, ramnagri more, ashiana digha road, raja Bazar, patna

contact number: 8409929444, 8409969444
Email: [email protected]
Interview Date: 31st august
GULF JOB INTERVIEWS IN PATNA.DIRECT CLIENT INTERVIEW AT PATNA. REQUIRED FOR ENGINEERS GROUPS.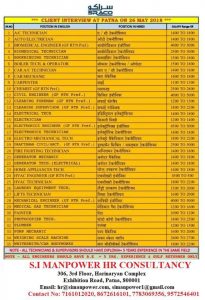 Gulf consultancy in patna
Walkin interviews in Patna today you are posting latest Gulf job interviews one of the leading company in Saudi Arabia is conducting following interviews dear girls job seekers utilise this opportunity..
List of vacancies
AC technician
Book binding technician
Boiler technician
Car mechanic
Car AC technician
CMS and BMS operator
Electrical technician
Electronic technician
HBSE engineer
Diesel Mechanic
Generator technician
HVAC technician
Lift technician
Medical gas technician
Painter
Plumber
Pump mechanic
Safety officer
Tailor
Telecom technician
Home appliance technician
Welder
Chemist
Electronic technician
The above list of vacancies are posted in Sarco Saudi Arabia..
Job date 10-09-2018
Job interview date 14th September 2018
Job consultancy name Si manpower consultancy
Contact address 3rd floor Hari Narayan Hari Narayan complex Exhibition Road Patna
Job email ID @ Si manpower.com
Contact details 716102020
gulf office in patna
gulf job consultants in patna
List of vacancies are, Electrician, Duct man, Pipe fitter, Plumber, Insulator, AC TECHNICIAN.
APPLY this job :
Best consultancy in patna for gulf job.here we will share complete information on gulf consultancy in patna details and gulf office in patna
gulf job consultants in patna.
jobs search words for gulf jobs
gulf job interview in patna
gulf job consultants in patna
गल्फ जॉब इंटरव्यू इन पटना
gulf interview in patna
gulf job consultancy in patna
alfalahgulf.com patna, bihar
consultancy in patna for gulf job
hammad enterprises patna bihar
al falah overseas services patna
hammad enterprises patna, bihar
hammad enterprises patna
foreign job consultancy in patna
gulf jobs interview in patna
gulf office in patna
patna gulf consultancy
gulf want
gulf walkin
gulf jobs recruitment
gulf job walkin
gulf vacancy
gulf consultancy in patna
hammad enterprises patna vacancy
hammad enterprises patna, bihar 800001
client interview for gulf jobs
gulf jobs walkin
gulf jobs interview
alfalah overseas patna
abroad job consultancy in patna
gulf job consultants
dubai job interview
current walkins in patna
gulf consultancy
hammad enterprises
gulf walkin interview
patna job consultancy list
patel gulf group of consultancy
latest gulf jobs interview
consultancy in patna
jobs in patna
latest job in patna
job consultancy in patna
office jobs in patna
job for patna
dubai job consultant
iti electrician job in patna
top 10 job consultancy in patna
walk in interview jobs in patna bihar
jobs in patna, bihar
dubai job consultants
job in patna
galf jobs
consultancy for dubai jobs
walk in interview in patna
walkin interview for gulf jobs
interview in patna
dubai jobs interview in india
jobs consultancy in patna
jobs at patna
job consultants in patna
job consultancy for gulf
walk in interview in patna 2017
alfalah electronics
ac technician job in patna
hammad office patna
job consultant in patna
gulf walk in interview
job vacancies in patna
gulf interview
overseas consultancy in patna
hammad consultancy
patna job consultancy
job vancay
galf job
electrician job in patna
hussain zahrani
gulf walkins
latest job vacancy in patna
gulf job interview
job interview in patna
job placement agency in patna
consultancy for gulf jobs
gulf jobs walkins
gulf job consultancy
gulf wakins
shapoorji pallonji patna office address
it job in patna
list of job consultancy in patna
fresher jobs in patna