Interview in this month
Gulf jobs walk in interview in cochin GULF JOBS ARE POSTED FOR MAINTENANCE PROJECT. LIST OF VACANCIES ARE GIVEN .GULF JOBS WALK IN INTERVIEW AT COCHIN.CLIENT INTERVIEW AT COCHIN. FOR MORE INFORMATION .CONTACT THE GIVEN PH NO.
Gulf Jobs Walk in Interview in Kochi Today
Gulf countries are known for their vast job opportunities and lucrative salaries, making them a popular destination for job seekers from all over the world. However, landing an interview in a Gulf country can be challenging, especially if you're located in a different city or country. This is where Gulf interview centers come in, and Kochi is one of the cities that offer these services. In this blog post, we'll explore the benefits of attending a Gulf interview in Kochi and provide tips for acing your interview.
Benefits of Attending a Gulf Interview in Kochi
Convenience: Attending a Gulf interview in Kochi is convenient for job seekers who are located in Kerala or nearby states. It saves time and money compared to traveling to Gulf countries for an interview.
Expert guidance: Gulf interview centers in Kochi have experienced professionals who provide expert guidance on interview preparation, including resume writing, interview etiquette, and body language.
Local market knowledge: Gulf interview centers in Kochi have extensive knowledge about the local job market in Gulf countries and can provide valuable insights on job opportunities and salary expectations.
Mock interviews: Gulf interview centers in Kochi conduct mock interviews to prepare job seekers for the actual interview. This helps to build confidence and identify areas that need improvement.
Visa assistance: Many Gulf interview centers in Kochi offer visa assistance services for job seekers who have secured a job in a Gulf country. This makes the visa application process hassle-free and more accessible.
Tips for Acing Your Gulf Interview
Research the company: Before attending the interview, research the company and its culture, values, and mission. This will help you understand the company's expectations and tailor your responses accordingly.
Dress appropriately: Dressing professionally is essential for creating a positive first impression. Choose a conservative and formal outfit that is appropriate for the job and the company culture.
Be on time: Arrive at least 15 minutes before the scheduled interview time. This shows that you're punctual and respectful of the interviewer's time.
Prepare responses: Prepare responses to common interview questions, including your strengths, weaknesses, and why you're interested in the job. This will help you answer confidently and coherently during the interview.
Practice good body language: Body language plays a crucial role in creating a positive impression during an interview. Maintain eye contact, sit upright, and avoid fidgeting or crossing your arms.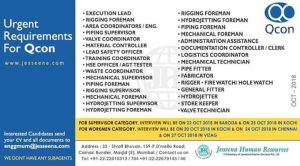 Walk in Interview In Cochin For Gulf
gulf job seekers one of the leading company is conducting walk in interview in Cochin for gulf having the below following vacancies. Relevant job candidates Attend the walk in interview in Cochin for the gulf. Interview details are mentioned below. Huge list of engineering jobs utilizes the opportunity grab the information about upcoming gulf interviews in Cochin. Henery food bakery division started the walk in interview in Cochin for gulf to their engineering department in Saudi Arabia. Huge vacancies in jobs at Saudi Arabia attend  walk in interview in Cochin for gulf 2018
Gulf Interview in Kochi
Here the latest client interview in cochin list of vacancies updated for ITI jobs in Gulf countries. Check the today posted client interview in cochin details in the below. Complete information about interviews Cochin.
Company tor their ARAMCO project (Oil and Gas) in
SAUDI ARABIA
0 QC E & I SUPERVISORS
0 QC CIVIL INSPECTORS
0 QC PAINTING INSPECTORS y
0 QC I'IIIAC / PLUMBING INSPECTORS
0 QC STATIC EQUIPMENT INSPECTORS
0 QC ROTATING EOUIPMENT INSPECTORS
0 QC ELECTRIC / CATHOOIC PROTECTION
INSPECTORS
0 QC INSTRUMENTATION INSPECTORS
0 QC TELECOMMUNICATION INSPECTORS
0 QC SAFETY RELIEF VALVE INSPECTORS
0 QC DOCUMENT CONTROLLERS
o HSE OFFICERS – NEBOSII / IOSII / OSHA
0 RIGGERS – LEVEL I / II / III – ith Valid ARAMCO
certification) IMMEDIATE DEPARTURE
Construction activities in the Petrochemical, Oil & Gas
projects with previous ARAMCO approval & SAP NUMBER
is MANDATORY for all the above positions.
Shortlisting in progress.
Rush with CV & Passports to
127, Pioneer Complex,
Marine Drive. Cochin – 682031
Contact: 0484 3048043/44/46/47 / 0484 2370157 / 2374951
E-mail: [email protected]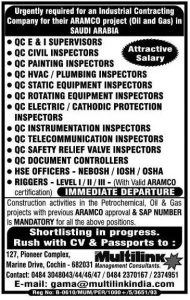 Relevant job search by the below keywords
gulf jobs walkin interview in cochin
walk in interview in cochin for gulf
client interview for gulf jobs in kerala
client interview in cochin
gulf interview in kochi
gulf interviews in kochi
gulf vacancies in kochi
gulf job interview in cochin
gulf interview in cochin
gulf job interview in kochi
gulf job vacancy kerala
kochi gulf interviews
gulf walkins in kochi
gulf client interview in kochi
gulf interview in kochi 2021
multilink cochin interview 2021
dubai jobs interview in kerala
gulf walkin interview kerala 2021
gulf interview in kochi
gulf jobs interview in kerala
gulf job interview in kerala
gulf walkin interview kerala
gulf job vacancy 2021 kerala
gulf walkin interview kerala 2020
interview in kochi for abroad
shutdown jobs interview in kochi
gulf walkin interview calicut
gulf interview in kerala
multilink cochin interview 2020
gulf interview in kochi 2020
multilink cochin interview
gulf vacancy kerala
gulf job paper today 2021
gulf job vacancies news paper 2021
gulf job vacancies newspaper 2021
gulf jobs in kerala
gulf jobs in kochi
gulf jobs kerala
gulf job visa kerala
gulf job paper
www.guljob. com
gulf walk in interview in kochi
gulfwalkin kochi
uae job interviews in kerala
gulf job paper today
gulf job news paper
gulf jobs news paper
gulf job vacancies news paper 2020
gulf job newspaper
walk in interview in kochi
walk in interview in kochi tomorrow
gulf job news paper today
gulf interview in kerala 2021
galf job paper.com
walkin interview in kochi
gulf employment news
gulf jobs newspaper in mumbai
gulf job vacancies news paper today
gulf employment news paper mumbai
aaj gulf job
gulf vacancy news paper
gulf recruitment in kerala
almarai recruitment agency kerala
gulf vacancy news paper mumbai
uae job interview in calicut
walk in interview in kochi for freshers
walk in interview in kochi today
walk in interview kochi
gcc walkins kochi 2021
gulfwalkin kerala
today gulf job vacancies newspaper
gulf job vacancies news paper today 2021
gulf jobs kochi
gulf jobs walkin
gulf job vacancies in kerala
walk in interview in cochin for gulf
abroad job interview in kerala
job interview in kerala
gulf jobs news paper in mumbai
gulf vacancy today
today gulf job news paper
today gulf job paper
gcc walkins kerala
gulf walkins
gulf jobs today news paper
mumbai gulf job news paper today
gulf job advertisement
gulf jobs news paper in mumbai today
list of gulf recruitment agencies in kerala
gulf want
gulf job news
gulf jobs newspaper
gulf job paper today 2020
gcc walkins kochi
urgent job vacancies in ernakulam
gulf employment news paper today
today gulf job vacancies news paper
dubai job news paper today
walk in interview in ernakulam
गल्फ जॉब पेपर
gulf want paper
gulf job today news paper
multi link recruitment kochi
गल्फ जॉब न्यूज़ पेपर इन मुंबई टुडे
mumbai gulf job paper
qatar jobs newspaper
gulf recruitment agencies in kerala
driver vacancy in kochi
gulf walkin
job vacancies kerala gulf
gulf job news paper today in mumbai
gulf news paper job
gulf employment news paper
gulf job interview in kozhikode
walkins in kochi
gulf jobs in mumbai newspaper today
gulf jobs in mumbai newspaper
gulf vacancy paper
gulf job vacancy news paper today
gulf paper jobs
driving jobs in kochi
gulf job news paper in mumbai
office jobs kochi
want paper gulf
job vacancies in kerala
gulf job agency kochi
jobs gulf today
gulf job newspaper today
gulf vacancy
mumbai gulf job paper today
gulf requirement paper
mumbai gulf jobs news paper
gulf job newspaper mumbai
gulf job paper 2021
walk in interview in kochi airport
abroad employment news
walk in interview in kerala for gulf jobs
walk in interview in kerala
today gulf jobs news paper in mumbai
dubai jobs news paper
gulf want paper 2021
gulf jobs today
gulf vacancy news paper 2021
gulf interview
multilink cochin
seagull international kochi
gulf want paper today
gulf job want paper
walk in interview for gulf countries
walk in interview in kochi infopark
job vacancies in kochi
cochin interview
almarai new interview date
airport job vacancy for female in kochi
gulf job vacancies news paper today 2020
gulf job news today
job paper today
gulf jobs paper
gulf news paper today jobs
lulu mall job vacancy contact number
job vacancies for bcom graduates in ernakulam
gulf paper job
gulf walkins kochi
walk in gulf
job vacancy in kochi
job vacancy in kerala
seagull international office client interview mumbai 2021
kerala gulf recruitment agency
gulf jobs news
walk in interview
walk in interview tomorrow near me
seagull international
seagull international cochin
job vacancies in kerala for freshers
job gulf news paper
gulf news paper jobs
gulf job paper mumbai
gulf job interview in kerala 2021
walk-in interview in kochi for freshers
walkin
walk in interview kerala
walk in interview in kochi infopark for freshers
house driver vacancy in kochi
lulu mall job vacancy interview 2020
lulu mall job vacancy interview
jobs in kochi, kerala
latest job vacancies in ernakulam
new job vacancies in kerala
fq international interview
gulf job vacancy
gulf job news paper mumbai
gulf job vacancy today
today gulf vacancy
gulf news paper mumbai
[email protected]
gulf job consultancy in kochi
gulf news vacancy
ongoing interviews
gulf ads
all gulf vacancy
job vacancies in newspaper today
walkin interview
interview near me
job interviews near me
walkin interview in kochi tomorrow
recruitment agencies in kerala to gulf
walk in interview near me
gulf job agency in kerala
walk-in interview in kochi infopark for freshers
safety officer jobs in kochi airport
lulu interview in kerala
urgent job vacancies in kerala
ernakulam job placement consultancy, kochi
new job vacancies in kochi
job at kochi
job vacancies in cochin
cashier jobs in ernakulam
ernakulam lulu mall job vacancy
today job vacancy in kerala
abroad job consultancy in palakkad
cochin airport job vacancies
almarai job vacancy 2020
cochin airport job vacancy
admin jobs in kochi
jobs at cochin
driver jobs in kochi
cochin airport careers
teacher vacancies in kochi
malta recruitment agency in ernakulam
new job openings in kochi
aims international job vacancies
interview gulf job vacancies news paper today
gulf job interview in kochi 2020
job vacancy gulf
translate in malayalam
gulf job interview in trivandrum
guljob
want paper 2021
dubai news paper job vacancy
newspaper gulf jobs
golf news paper
job news paper today
today job paper
"the blacksmith dubai"
gulf walkin interview
vacancy paper
all gulf job vacancy
asmacs cochin interview
latest interview
uae job interview
interview today
job vacancy in newspaper
dubai job interview
gulf job interview
interview in kerala
today walkin
today walkin interview
walk in interview today
gulf walk in interview
today's walk in interview
list of gulf recruitment agencies in trivandrum
upcoming walk in interview
gulf job recruitment agencies in kerala
qatar recruitment agencies in kochi
fq international cochin
dubai drydocks walk in interview 2019
walk in interview in calicut
kannur airport job vacancy forklift
almarai recruitment agency mumbai
seagull agency
itl consultancy kochi
lulu mall job vacancy interview trivandrum
kochi nsh post office
nesto hypermarket interview in kerala
driver jobs in kochi airport
ernakulam job placement consultancy kochi
itl jobs kochi
any job vacancy in kochi
house driver jobs in kochi
driver vacancy in cochin airport
aluminium fabrication job vacancy in ernakulam
oil and gas jobs in kochi
seagull consultancy
lulu mall job vacancy in ernakulam
nesto hypermarket calicut job vacancy
nedumbassery airport job vacancies 2021
ac mechanic job vacancy in ernakulam
lulu hypermarket interview in kerala
lulu mall job vacancy in thiruvananthapuram
office jobs in ernakulam for female
kerala job wanted
kochi, kerala jobs
lulu mall interview 2021
indus motors calicut job vacancy
salesman jobs in kochi
urgent jobs in kochi
nesto calicut careers
lulu vacancies in trivandrum
new jobs in ernakulam
urgent jobs in kerala
hotel vacancy in kochi
company jobs in kochi
nedumbassery airport job vacancies
bcom jobs in dubai
driver vacancy in kochi contact number
job vacancies in kochi for freshers
latest job vacancies in kochi
bcom jobs in kochi
company driver vacancy in kochi
driver job vacancies in kochi
fresher walkins
lulu mall sales girl vacancy
naukri jobs in kerala
office job vacancies in kochi
office jobs in kochi
airport vacancies in kerala
driver vacancy in ernakulam
job vacancies in construction companies in ernakulam
jobs in kochi
lulu mall trivandrum vacancies
accountant jobs in kochi
job search in kerala
software engineer jobs in ernakulam
multilink consultancy chennai
dubai lulu mall job vacancy
lulu mall job vacancy in dubai
bcom fresher jobs in kerala
cochin airport jobs
warehouse jobs in kochi
automobile jobs in kochi
job vacancy
new job opportunities in kerala
teacher vacancy in kochi
job vacancies in kochi airport
lulu mall trivandrum careers
jobs in cochin airport
nedumbassery airport careers
nedumbassery airport jobs
gulf recruitment agencies in cochin
gulf recruitment agencies in kochi
cochin international airport job vacancies 2020
gulf job consultancy in kerala
jobsites in kerala
civil engineering recruitment agency