kuwait oil company jobs vacancy
KOC JOB CAREERS KUWAIT MAINTENANCE PROJECT,LONG TERM CONTRACT  ATTEND CLIENT INTERVIEW AT CHENNAI and MUMBAI 
Hotel Peninsula Grand, Andheri – Saki Naka Road,Andheri (East), Mumbai.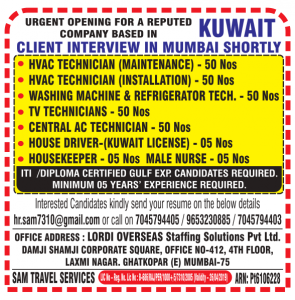 A Leading Contracting Co. requires following personnel for koc jobs career kuwait Oil & Gas Maintenance. All Candidates should have minimum 5 to 10+ yrs. exp.
kuwait oil company jobs vacancy
AREA CO-ORDINATOR ENGINEERS (Vibration Analysis & Condition
Monitoring / Services (Insulation, Painting)/
Material / Mechanical Maintenance)
SUPERVISORS
(Contracts / Maintenance / Scaffolding)
CHARGEHANDS (Instrumentation – Rotating Equipment / Turbo-Compressor Overhaul)
SENIOR TECHNICIANS / TECHNICIANS
(Turbo-compressor Vibration / Turbo-Compressor Condition Monitoring / Mechanical Turbo-Compressor
Overhaul / Mechanical Maintenance)
Ambe International ( gulf recruiter)
Contact: (022) 61431234 / 99300 12274
E-mail:[email protected]
koc maintenance project 2018
koc maintenance project kuwait 2018
koc project kuwait
koc project
koc kuwait jobs 2018
koc careers 2018
koc careers
koc kuwait jobs
koc kuwait interview 2017
kuwait oil company jobs vacancy 2017
kuwait koc project
koc projects 2018
isco kuwait vacancies 2017
koc recruitment
koc job vacancy 2018
koc kuwait interview 2018
koc kuwait recruitment 2018
kuwait oil company jobs vacancy 2018
koc vacancies
koc project in kuwait
koc job vacancy
koc kuwait interview in india
kocjobs
koc kuwait careers
koc kuwait interview in india 2018
koc maintenance project kuwait
koc kuwait recruitment
koc career
koc job vacancies 2018
jobs in kuwait oil company