Free Requirement Jobs in Gulf Counties
Today Posted Jobs in Gulf Countries
KUWAIT  REQUIRED TEAM LEADERS,  TECHNICIAN, FITTERS, DRIVERS, INSTRUMENTATION TECHNICIANS, ELECTRONIC TECHNICIANS, FIBRE TECH ,OFC CABLE JOINTER, ATTRACTIVE SALARY + OTHER BENEFITS). CLIENT IS INTERVIEW WIIL BE SOON. SHORTLISTING IN PROCESS.
These are OLD POSTS
Post Title
IMMEDIATE REQUIREMENT FOR UAE FREE REQUIREMENT ZONE
Job List and Description Text
Joinery estimator, upholster-sofa maker, upholster- curtain maker, AC Technician (chiller AC Exp), vennee selector, Aluminium fabricators, aluminium fitters, glass fitter, mason tile, furniture Carpenter Grade-A, CNC Router operator, edge banding Machine operator, Beam saw operator, spindle moulder, joinery supervisor, painter Supervisor, cutting list writer, auto mechanic having luxury cars experience (rose Royce , Bentley) must have experience in repairing and fixing the parts.
GCC return candidates must have minimum of 3years of experience can apply.
Skype/telecom Interview
Walk In Interview in Cochin
Jobs at UAE
Interview Address and Contact Details
Aspin travels, 7th cross road, door no.:27/391, Krishna Vihar colony-31, Panampilly nagar, Cochin-36
Email
[email protected]
Interview Date
31 October
Post Title
FREE RECRUITMENT FOR A MULTINATIONAL CO REQUIRES FOR THEIR THERMAL PLANT POWER PROJECT
Job List and Description Text
SITE MANAGERS- MECHANICAL, PLANNING ENGINEERS- MECH, BOILER MECHANICAL ENGINEERS, QC ENGINEERS- MECHANICAL, I&C ENGINEERS, ELECTRICAL ENGINEERS, TURBINE AUXILIARIES & BOP ENGINEERS, TURBINE ENGINEER/ GEN ENGINEER, HSE OFFICERS, PTW RECEIVER & MATERIAL COORDINATORS, STORE KEEPERS, MACHINIST FOR WORKSHOP, ROTARY FOREMAN, GENERATOR MECHANICAL FOREMAN, ELECTRICAL FOREMAN, BOILER MECHANICAL FOREMAN, MECHANICAL FOREMAN, TURBINE MECHANICAL FOREMAN, VALVES FOREMAN, I&C TECHNICIAN-SEC, STATIC/ ROTARY TECHNICIANS, BOILER MECHANICAL TECHNICIANS, AUX./ GENERATOR TECHNICIANS, SENIOR ROTATING EQUIPTECHNICIANS, INSULATION TECHNICIANS, GENERAL MECHANICAL TECHNICIANS, TURBINE MECHANICAL TECHNICIANS, RIGGERS, FORKLIFT OPERATORS, OVERHEAD CRANE OPERATORS, STRUCTURAL WELDER, I&C HELPER, ELECTRICAL HELPERS, MECHANICAL HELPERS, HP WELDERS, FABRICATOR.

All enginers should have degree in engineering with 10 to 12 years experience in thermal power plant project. all the remaining positions should have at least 7 years experience in thermal plant project. serial no 32 to 39 thermal plant project experience is not mandatory.
Walk In Interview in Mumbai
Jobs at Saudi Arabia
Interview Address and Contact Details
SEAGULL INTERNATIONAL GLOBAL RESOURCES CONSULTANTS

4th floor, wellington business park2, ruby coach lane, off-andheri- kurla road, marol, andheri, Mumbai.

contact number: 02228599900
Email: [email protected]
Interview Date: 31st august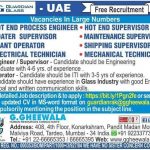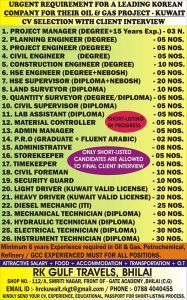 Free Requirement Jobs in Gulf Countries
BELOW  OLD JOB NEW JOBS UPDATED IN  IMAGES
INTERVIEW MODE  CV SELECTION & SKYPE / DIRECT INTERVIEW®  OFFICE
POSITIONS FOR KUWAIT JOB, free jobs in Kuwait
SITE ENGINEER (7-10 YR EXP).
MULTI WELDER
QA/QC ENGINEER (5-10 YR EXP)
ARC WELDER
SAFETY OFFICER (5-7 YR EXP)  FABRICATOR
MECH SUPERVISOR (7-10 YR EXP)
MECH FOREMAN (7-10 YR EXP)
RIGGER
RIGGING FOREMAN
ELECTRICIAN
WELDING POREMAN
INSULATOR
NDT TECHNICIAN
SCAFFOLDER
SECRETARY
SAND BLASTER + PAINTER
STORE KEEPER
HELPER
FORWARD YOUR CV'S T0 [email protected]
In the mail subject mention the job you are applying for Call us @ 044 2624 4441 / 7845077845
WEB WWW.TRANSCEND.ORG,IN
INTERVIEW LOCATION: CHENNAI, INDIA
Jobs at KUWAIT
Gulf Free Recruitment Jobs.Free visa for Gulf countries.
URGENTLY REQUIRED FOR A LEADING ENGG. Co. FOR THEIR KOC OIL AND GAS PROJECT IN KUWAIT
Final Client Interviews on
 In MUMBAI OFFICE.
kuwait jobs interview in chennai 2020.
CONSTRUCTION ENGR/ SUPVR.- MECHANICAL
CONTRACTS ENGINEERS
PLANNING ENGINEERS
COST ESTIMATION ENGINEERS- MECHANICAL /CIVIL /
ELECTRICAL/ INSTRUMENTATION
DESIGN ENGINEERS- MECHANICAL.PROCESS / CIVIL
ELECTRICAL / INSTRUMENTATION ./ STRUCTURAL
All the above positions are BE in Engineering or Equivalent with 8 to 10 YRS Experience.
ASIAPOWER OVERSEAS EMPLOYMENT SERVICES
Kuwait jobs interview in Chennai 2020 Contact details
204,Bezzola commercial complex .,Opp. Suman Nagar,Sion Trombay Road. Chembur, MUMBAI – 400 071.
Email: [email protected]
CLICK HERE TO APPLY HUGE
free requirement for gulf
gulfwalkin free recruitment
free recruitment gulf job vacancy
free recruitment abroad jobs
gulf companies direct recruitment
free requirement gulf job interview in chennai
free requirement gulf job
gulf jobs free recruitment 2022
free recruitment for gulf
free requirement jobs in gulf countries
free gulf jobs
gulf requirement
gulf free recruitment jobs 2022
free recruitment gulf jobs urgent
gulf free recruitment
gulf job free requirement
gulf requirements
gulf jobs free recruitment 2023
free gulf job requirement
free requirement
free recruitment jobs
gulf direct company jobs
free recruitment jobs in gulf
free visa gulf job vacancies
gulf jobs direct recruitment
free recruitment jobs in abroad
free want for gulf
shbc kuwait vacancy
free requirement jobs in abroad
gulf job interview in goa
gulf job requirements
free requirement abroad jobs
shbc kuwait salary
abroad hotel jobs free requirement
singapore welding jobs free visa
shbc kuwait jobs
jcb operator whatsapp group link kerala
gulf free visa jobs
urgent jobs in gulf countries
free visa jobs in gulf countries
gulf update 24
gulf requirements today
gulf job requirement
gulf jobs free visa
cv selection gulf job delhi office
abroad jobs free recruitment
shbc kuwait vacancy 2022
free visa electrician jobs in kuwait
singapore free visa company jobs for indian helper
cv selection gulf job vacancy 2022
gcc walkins
shbc kuwait
gulfupdate24
free gulf recruitment agencies in mumbai
kuwait job driver visa 20 today
helper jobs in kuwait free visa
gulf jobs 2023
job gulf country
dubai mason maintenance in free visa jobs 2022
kuwait interview in chennai 2022
kuwait international airport jobs cv selection
jcb operator whatsapp group link tamil nadu
cv selection jobs in gulf
kuwait interview in baroda 2022
gulf countries job requirements
gulf update 24 whatsapp
latest jobs in gulf countries
bharat benz job vacancy in kerala
job openings in gulf countries
cable jointing jobs abroad
thermal insulation jobs abroad
today gulf jobs
haji main powers
rtg crane operator vacancy in abroad
gccwalkins
7 seas gulf jobs photos
gulf cable kuwait jobs
gulf country job
free recruitment
security jobs in kuwait
chinar travels chennai
"transcend hr consultancy | oil & gas shutdown manpower recruitment job
agency chennai, tamil nadu"
chinar travels mumbai
bharatbenz job vacancy in chennai 2022
accountant jobs in gulf with free visa and ticket today original
jobs in gulf country
free recruitment for dubai from india
free visa jobs in saudi arabia computer operator
gcc job vacancy whatsapp group
oman house driver job whatsapp contact
jobs in the gulf countries
jobs in gulf countries
driver jop
aluminium fabrication experience certificate
anna gurlove
shbc kuwait new project
aravind travels kochi contact number
gulf vacancy today
today gulf job
today gulf job vacancy
transcend hr consultancy photos
aravind travels aluva phone number
aravind travels ernakulam
gulf job vaccancy
gulf job ki duniya
haji manpower delhi
tata arc anaesthesia 2022
al yamama company salary
aravind agency aluva
aravindh travels aluva
chinar office mumbai contact number
cv selection jobs in kuwait
gulf ferr
gulf interview in jaipur
substation operator jobs in telangana
gccwalkin
free requirement for dubai
chinar travels and trade links
free visa for gulf countries
gulf country vacancy
job in gulf countries
p.k international manpower recruitment and consultancy kochi, kerala
seagull international office client interview mumbai 2022
vacancy for gulf country
chinar travels and trade links photos
gcc recruitment walk in interview
gulf walkin interview in mumbai
cv selection jobs
dubai job consultancy in srinagar
b.s.k anifa international
goa hotel job contact number
gulf update 24 kuwait
heisco company kuwait
trehan consultants pvt. ltd
helper jobs in gulf countries
anaesthesia technician jobs in qatar 2022
gulf jobs for freshers
shbc mech
bihar electrical supervisor licence
free recruitment foreign jobs
gulf visa jobs
kuwait hotel jobs free visa
kuwait port jobs
7 seas gulf jobs
gulf job requirement today
wall painter job vacancy self visa abu dhabi
vacancy gulf country
6g welder salary in kuwait
dubai house driver free visa
free visa electrician jobs in gulf
it jobs in gulf
job for above 55 years in mumbai
vacancies in gulf countries
bharatbenz recruitment 2022
bharatbenz vacancy for fresher
security jobs in kuwait with free visa
cable jointer jobs in kuwait
gulf country job apply online
jobs in gulf countries for freshers
jcb operator whatsapp group link
free visa vacancy for electrician
shbc bihar
hotel jobs in abroad free visa
sameer abdulshaker
free job posting sites in kuwait
dubai jobs for pakistani free visa 2022
job vacancies in gulf countries for freshers
insulation superintendent jobs
how to get job in gulf countries
job vacancies in gulf countries
how to get job in gulf
jobs in gcc countries
free requirement jobs in gulf countries
gulf free recruitment jobs 2019
free requirement for gulf
gulf client interviews in this month images
cv selection jobs in kuwait
free recruitment for kuwait
gulf free recruitment mumbai
free recruitment jobs in gulf
gulf job vacancy kuwait
free recruitment for gulf
cv selection shutdown jobs
gulf free recruitment jobs 2020
gulf job interview in goa
free requirement jobs in kuwait
jobsatgulf.org
gulf jobs free recruitment
gulf free recruitment
gulf job free requirement
gulf driver job interview in chennai
gulf job requirements
gulf job requirement
gulf companies direct recruitment
free visa for gulf countries
jobs in kuwait free visa
shbc kuwait requirement
free recruitment gulf jobs
kuwait international airport jobs cv selection
free gulf job requirement
gulf country job requirement
jobsatgulf
gulf jobs direct recruitment
gulfwalkin free recruitment
urgent jobs in gulf countries
cv selection jobs in dubai
free gulf jobs
gulf free recruitment jobs 2018
gulf job facebook mumbai
peb jobs in gulf
abroad jobs free recruitment
kuwait free visa job store keeper
urgent abroad jobs in chennai
gulf walkin
jobsatgulf kuwait
insulation jobs abroad
house driver job oman whatsapp number
helper jobs in abroad
gulf requirement
cv selection jobs in singapore
kuwait driver job interview in chennai
gulf vacancy kuwait
visa officer salary in kochi
cv selection jobs in abroad 2019
kuwait interview in chennai 2019
cable company jobs in gulf countries
free requirement jobs in dubai
cv selection job for gulf 2019
iti fitter jobs in dubai & salary
free gulf job
free requirement
free job visa for kuwait
gulf vacancy
gulf job walkins canada
abroad hotel jobs free requirement
kuwait driver free visa
job vacancy in gulf countries
diploma civil jobs in gulf countries
singapore free visa company job for indian helper
free visa jobs in kuwait
iti fitter salary in dubai
free visa job in kuwait
cable jointing jobs abroad
gulf free visa jobs
jobs in kuwait free visa 2019
house driver jobs in chennai contact number
singapore free visa job agent in chennai
heisco kuwait interview in chennai
cv selection kuwait
shbc kuwait job vacancy
jobs in kuwait with free visa
gulf jobs whatsapp group
gulf job vacancy today
gulf job vacancy in mumbai office
kuwait job interview in trichy
kuwait free visa
kuwait free visa job
civil engineering jobs in kuwait for freshers
argon welder salary in dubai
dubai free visa company jobs 2018
dubai job vacancy free visa
recruitment in kuwait
kuwait jobs interviews in kerala
gulf free recruitment jobs
rigger salary in kuwait
electrical jobs in kuwait for freshers
deee jobs in chennai
kuwait jobs for indian freshers salary
abroad jobs interview in mumbai
gulf free requirement
kochi jobs whatsapp group
engineering jobs in kuwait for freshers
jobs in kuwait for indian freshers
gulf job recruitment
cv selection jobs for oman in mumbai
substation gulf interview chennai
walk in interview for gulf countries
gulf job whatsapp group
iti electrician salary in kuwait
free visa jobs in gulf
kuwait house driver job visa free
welding engineer jobs in chennai
kuwait hotel job visa
civil engineering fresher jobs in dubai
gulf jobs in kuwait
hotel jobs in singapore free recruitment
vacancy in gulf country
kuwait jobs online apply
land surveyor jobs in gulf walk interview in mumbai
kuwait koc direct client interview
how to get job in gulf countries
naukri uae job speak news
cv selection jobs in gulf
kuwait job whatsapp number
free recruitment abroad jobs in chennai
shbc kuwait careers
kuwait helper free visa
oman house driver job whatsapp contact
electrical site engineer jobs in chennai
kuwait electrician helper salary
walk in interview in chennai for civil engineer fresher
welder job vacancy in abroad
house driver jobs in chennai
driver job vacancy in kuwait ministry
gulf jobs kuwait
land surveyor jobs in chennai
free visa job vacancy
univercell job vacancies
civil engineer fresher jobs in dubai
civil engineer job whatsapp group
vacancy in gulf countries
dubai free visa jobs 2018
job for gulf country
gulf interview in kerala
job vaccancies in kuwait
sts oman interview in chennai
free requirement job
https://www.gulfjobnew.com/2018/02/
gulf vacancy job
gulf job cv selection
cv selection job for gulf
dubai free visa company jobs 2017
hotel jobs in kuwait for indian freshers
whatsapp group for jobs in chennai
iti job vacancy in chennai
urgent requirement jobs in chennai
iti electrician jobs in chennai
chennai job whatsapp group
7 seas gulf jobs
deee jobs in trichy
welding job vacancy in kerala
iti jobs in kuwait
free visa jobs for freshers
free visa free ticket jobs in singapore
house driver job in trichy
welder jobs in dubai free visa
direct company jobs in chennai
abroad jobs for civil engineers freshers
gulf recruitment agencies in goa
dubai helper visa salary 2018
free recruitment jobs
mechanical engineering jobs whatsapp group
abroad jobs free visa
direct client interview in chennai for malaysia
gulf jobs walkin
gulf requirements today
naukri gulf app news
gulf job direct apply
gulfwalkin whatsapp group link
naukri gulf job speak news
jobs in gulf countries for freshers
free visa for kuwait jobs
iti electrician job salary in kuwait
kuwait free visa job 2019
fabrication supervisor jobs in chennai
civil foreman job in mumbai
without interview jobs in chennai
cable jointer jobs in kuwait
foreign country job requirement
mobile technician salary in kuwait
bharatbenz recruitment 2019
foreign jobs diploma holders
store keeper jobs in chennai
house driver jobs in tamilnadu
security jobs in kuwait with free visa
electrical maintenance job in chennai
electrician salary in kuwait
electrical vacancy in chennai
painter jobs in chennai
qatar job whatsapp group
construction store keeper job in mumbai
civil engineering jobs in chennai for freshers 2018
gulfsalary
transcend consultancy chennai
civil jobs in kuwait
abroad jobs whatsapp group
civil engineering fresher jobs abroad
kerala driver job whatsapp group link
free visa kuwait
diploma electronics salary in kerala
free visa jobs in abroad
arc welder whatsapp
job vacancies in gulf countries for freshers
free visa jobs in saudi arabia 2018
vacancy gulf
11kv cable jointer jobs in gulf
dubai hotel job free visa 2018
hotel job vacancy in abroad
mba jobs in kuwait
best gulf country to work
gulf countries job
asia power gulf jobs 2018
dubai house driver free visa
gulf job vacancies news paper kerala
heisco interview in chennai
heisco kuwait interview mumbai
kuwait job interview in chennai
latest gulf job vacancies
sts oman interview 2019
gulf vacancy in mumbai
kuwait jobs interview in chennai 2019
gulf job vacancy
gulf jobs online
kuwait house driver visa
today gulf job vacancy
gulf job
free job
gulf interview
nid jobs
gulf walk in
jop vaccancy
kuwait job vacancy whatsapp group
free recruitment gulf job vacancy
free requirement client interview dynamics
free requirement jobs
gulf jobs interview in trichy
naukri jobs in chennai
assignment abroad times facebook
insulation job vacancies abroad
iti electrician job whatsapp group
kuwait helper free visa 2019
singapore free visa company jobs for indian helper
free visa kuwait jobs
helper jobs in kuwait free visa
kuwait jobs in chennai
welding job vacancy in chennai
today news papers civil foreman jobs
free requirement jobs in abroad
shbc kuwait salary
free recruitment abroad jobs
sts oman shutdown
7 seas gulf job
cv selection jobs in qatar
welding supervisor jobs
abroad job vacancy whatsapp group
fresher job in kuwait for indian
hotel electrical maintenance jobs in chennai
iti fitter job in kuwait
fresher electrical engineer salary in kuwait
house electrician job in kuwait
store keeper jobs in chennai in construction
civil job vacancy in chennai
deee jobs in singapore
electrical supervisor jobs in tamilnadu
jobs in kuwait for indian mba freshers
bharatbenz recruitment 2018
civil site supervisor jobs in chennai
electrical maintenance engineer jobs in chennai
electrical supervisor jobs in chennai
electrician helper job in chennai
ac mechanic helper jobs in chennai
iti fitter jobs dubai
kuwait house driver free visa
kuwait oil company helper salary
singapore welding job free visa
cable jointer jobs in mumbai
chennai jobs whatsapp group
civil draughtsman job in gulf country
kuwait networking jobs salary
peb jobs in abroad
house driver vacancy in chennai
iti automobile jobs in dubai
qatar jobs whatsapp group
welding jobs in chennai
jobs in qatar whatsapp group
singapore cnc jobs for chennai agent
ac helper job in mumbai
electrical supervisor salary in kuwait
iti fitter job in dubai & salary
iti salary in dubai
singapore hotel jobs free visa
autocad civil draftsman jobs in chennai
electrical maintenance supervisor jobs in hyderabad
electrical job vacancy in chennai
gulf naukri
revit jobs in chennai
electrical maintenance jobs in tamilnadu
iti electrician salary in dubai
transcend hr consultancy chennai tamil nadu
electrical maintenance jobs in chennai
dubai jobs whatsapp number
electrical engineering jobs in chennai for freshers
kuwait indian driver job vacancy
automobile jobs in gulf countries
fitter job salary in dubai
computer operator jobs in dubai free visa
driver jobs in saudi arabia free visa 2018
electrical jobs in chennai
job sites for gulf
job vacancy in gulf country
ndt technician salary in kuwait
singapore hotel job free visa
transcend hr consultancy chennai, tamil nadu
argon welder salary in kuwait
electrician job in mumbai
mobile technician jobs in kuwait
civil engineering jobs in chennai
diploma electronics jobs in chennai
helper job in dubai free visa
dme job vacancy in chennai
gulf careers recruitment
kuwait welder salary
civil engineering jobs kuwait
fresher civil engineering jobs in dubai
naukrigulf kuwait
autocad draughtsman jobs in mumbai
job in dubai for civil engineer fresher
kerala job vacancy whatsapp group
rigweld crane hire
singapore electrical jobs in chennai consultancy
gulf cables kuwait jobs
instrumentation jobs in chennai
job vacancies in construction companies in chennai for freshers 2018
walk in interview for civil engineer fresher
helper job in abroad for indian
kuwait country jobs for indian
electrician job in tamilnadu
free visa for kuwait
free recruitment for abroad
goa jobs whatsapp group
instrumentation engineer jobs in chennai
anaesthesia technician jobs in abroad
heavy driver jobs in tamilnadu
civil engineering job whatsapp group
free abroad job consultancy in chennai
free recruitment images
civil engineering jobs in dubai for indian freshers
automobile jobs in chennai
instrumentation jobs in tamilnadu
mechanical job whatsapp group
tamilnadu job whatsapp group
uae job whatsapp group
gulf job kuwait
iti electrician jobs in jaipur metro
driver job in abroad
ndt jobs in tamilnadu
gulf job visa
pasha construction vacancies
goa hotel job vacancy contact number
recruitment kuwait
job in gulf countries
engineering jobs in uae 2017
job openings in gulf countries
job sites in gulf
civil engineering jobs in foreign countries
gulf recruitment in mumbai
vacancy in gulf
mumbai job whatsapp group
abroad free visa jobs
job vacancies for civil engineers
visa jobs chennai
resume for iti fitter
whatsapp group for jobs in mumbai
scaffolding jobs abroad