TODAY JOBS AT GULF
A Multinational Company specialized In Insulation. Coating Passive Fire Protection. Re-factory linings. Environment Services. Storage tanks Heal Exchange  in Oil & Gas 
www.sinclus.com Mumbai Gulf Jobs
Latest jobs in  SINCLUS CONSULTANCY
Post Title
URGENT REQUIREMENT AT ALGERA FOR OIL AND GAS CONSTRUCTION PROJECT
Job List and Description Text
Electrical Fitters, instrument fitters, Industrial Electrician, cathodic protection, FOC Technician, instrument technician, E&I commissioning foreman
Candidates must ITI with minimum 10+ years experience in oil and gas construction project.
Age should be above 28
Walk In Interview in Mumbai
Jobs at ALGERIA
Interview Address and Contact Details
Sinclus Marketing Services pvt.ltd, 41 , Navkethan Industrial estates, Mahakali caves Road, shanti Nagar, Andheri East, Mumbai, Maharashtra, 400093
Email
CV @sinclus.com
Interview Date
31-10-2020
Post Title
URGENTLY REQUIRED AT OMAN FOR FACILITIES MANAGEMENT DIVISION
Job List and Description Text
AC technicians(central/chiller), AC supervisor, Electrician (Maintainance), Instrument Technicians, Electronics Technicians, Kitchen Equipment Technicians, Furniture Carpenter, Tile Masons, Cook(North and South Indian), BMS Technicians, Instrument Fitters, Mechanical Technicians, Firefitting and Protection Technicians, FADS/FFPS Technicians, wall painters, plumbers
Candidates having IT/Diploma with minimum 5-10 years of experience in operation and maintenance of facility management projects.
Walk In Interview in Mumbai
Jobs at OMAN
Interview Address and Contact Details
Sinclus Marketing Services Pvt.Ltd, 43, Navkathan Industrial Estate, Mahakali caves Road, Near Shanti Nagar Bus stop, Andhari-E, Mum-93
Email
Interview Date
30 September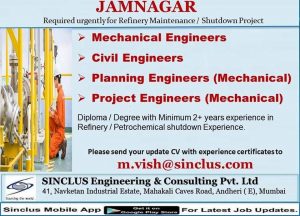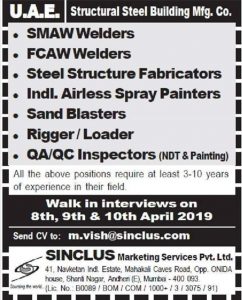 50 Top Gulf Job Consultants In Mumbai, Chennai, Delhi, Cochin
SHORT – LISTING IN PROGRESS
Below are old jobs
CLIENT INTERVIEW WILL BE HELD AT
CHENNAI
QC INSPECTORS : Degree or Diploma in Engineering with icorr Insulation
Level ii certified. GCC work experience 2-3 years' in the relevant field of
Insulation / Scaffolders / Fireproofing 8: Refractory
SUPERVISORS – INSULATION : Degree or Diploma in Engineering
Mechanical. GCC work experience 3-5 years' in relevant field of Insulation
Scaffold I Fireproofing& Refractory
PROJECT ENGINEERS – INSULATION : Engineering Graduation with GCC
work experience 3-5 years' in relevant field of Insulation / Scaffold I Fireproofing
Refractory
PLANNING ENGINEERS : Engineering Graduation with GCC work experience
3~S years'ln relevant field.
HSE OFFICERS IJR HSE OFFICERS: Graduation & NEBOSH certified 8: other
HSE certification In Oil & Gas field with 3~S years' work experience in similar
position. Preference to Gulf experienced
ADMIN OFFICERS : Graduation or Post Graduation with work experience 2-3
years' in similar field with office work handling min of 1 .500 employees.
HR skiils&knowledge wouidbePreferred
STORE KEEPERS / SITE ADMIN CLERKS : Graduation I Higher Secondary
with work experience in Oil 8: Gas field 2-3 years' will be preferred. Computer
knowledge (MS Office &: INTERNET) with site stored: admin works.
Attractive Salary with Free Food & Accomodation
Sinclus gulf jobs , sinclus vacancy, sinclus recruitment
SEAGULL
INTERNATIONAL
(hateu D'Arnpa, 2nd Floor, Nelson Manickarn Road, Aminjikarai, Chennai – 29
(1)23742331 m – 111191 7395917915 Email :[email protected]
Reg. No 801191MUM19£R11000957501112002 wwwseaguiiindianet
f / seagull labs '/ hrdifiseaguil
THE BELOW ARE OLD JOBS 
OMAN  JOBS AT  GULF
GULF JOBS FOR CONSTRUCTION PROJECT FREE RECRUITMENT
Following jobs at
MASONS

 PLUMBERS

CARPENTERS (Shuttering / Furniture)

CARPET INSTALLERS

CIVIL CHARGEHAND

CIVIL FOREMEN

SUPERVISOR: Electrical ,Mechanical ,Scaffoldcr,Architectural , Civil
Candidates must have min. 5+ years of work exp. on Airport/ Large Infrastructure / Civil projects. Gulf experienced preferred.APPLY YOUR RELEVANT GULF JOBS. FIND YOUR NEXT JOB VACANCIES
Oman job at gulf Walk in Interviews  .Contact with complete biodata, original Passport & Certificates at:
SINCLUS Marketing Services Pvt. Ltd.
48,Navaketan,indl Estate,Mahakali caves road,Anderi (E),Mumbai-93, pH: 022 61084709/9167392721.
Email:[email protected]
Next oman JOBS at gulf
Search KEYWORDS for gulf jobs
sinclus
sinclus
sinclus office mumbai vacancy
sinclus mumbai
vacancy in sinclus
sinclus gulf jobs
sinclus office in mumbai
sinclus office mumbai
sinclus mumbai contact no
www.sinclus.com
www.sinclus.com mumbai gulf jobs
sinclus mumbai office
sinclus office
sinclus consultancy
sinclus cochin office address
sinclus baroda contact number
sinclus delhi contact number
sinclus office address in mumbai
sinclus baroda
sinclus office mumbai contact number
sinclus cochin
www.sinclus.com mumbai
sinclus marketing services pvt ltd
sinklesh office mumbai
sinclus marketing private limited
sinclus consultancy services mumbai, maharashtra
sinclus office baroda
sinclus vacancy
jobsatgulf agency address
sinclus marketing services private limited
sinclus office vadodara
sinclus engineering & consulting pvt. ltd
sinclus jobs in afghanistan
afghanistan jobs interview in india 2017
sinclus chennai
sinclus delhi
sinclus andheri
afghanistan jobs interview in india
sinclus.com
sinculs
sinclus ernakulam kerala
sinclus marketing services mumbai
indoman mumbai
samsung engineering mumbai office address
gulf job office mumbai
gulf job consultants in mumbai
overseas job consultancy in mumbai
gulf free recruitment mumbai
bechtel oman careers
bechtel vadodara
singapore job consultancy in kerala
list of overseas job consultants in cochin
sinclus consultancy services mumbai maharashtra
gulf job mumbai office
mumbai gulf job
gulf consultancy in mumbai list
consultancy office in mumbai
mumbai office for gulf job
gulf job vacancy in mumbai
jobsatgulf address
sinclus engineering and consulting pvt ltd
sinclus mumbai address
afghanistan jobs in chennai
job consultancy in kaloor
gulf job recruitment
sinclus consultancy services
bechtel india mumbai address
gulf recruitment agencies in kochi
sinclus ernakulam, kerala
gulf job consultants in mumbai for engineers
gulf consultancy in mumbai
mumbai job consultancy
saeclus
british scaffolding international ltd andheri
gulf vacancy in mumbai
sinclus marketing
mumbai office for gulf jobs
gulf job walkins in mumbai
sinclu
mumbai gulf office
carpenter job in mumbai
consultancy address
sinclus vadodara
sinclus mumbai phone number
indoman overseas mumbai
jobsatgulf 2018
sinclus mumbai, maharashtra
gulf vacancy in mumbai office
gulf job consultants in mumbai list
mumbai gulf jobs
gulf country job consultancy in mumbai
sinclus marketing services
consultancy services
gulf job consultancy in mumbai
job consultancy in andheri
i want carpenter job in chennai
list of manpower consultancy in mumbai
job consultancy in mumbai
oil and gas recruitment agencies in india
samsung engineering india pvt ltd
bechtel vadodara office
afghanistan jobs interview in india 2018
gulf job consultancy in kochi
sinclus careers
gulf jobs in mumbai newspaper
jobsatgulf agency