Singapore job vacancy Urgent Requirement form India. Candidate should have experience in construction / Shipyard are required. Singapore returns needed in below sectors.
Jobs For Singapore From India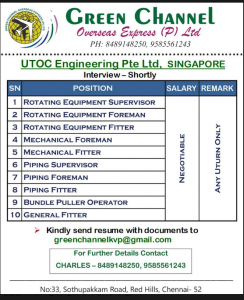 Jobs For Singapore From India !! Hello job seekers. Today we are going to disclose Singapore jobs for Indian graduates on our site. singapore job vacancy 2018 has released the list of Jobs for Indian nationals graduates, 12th pass, 10th pass candidates on various posts.
Singapore job vacancy 2021
There are listed out below, check it once. We have mentioned job vacancies list, Job benefits and also company requirements in this below post. Jobs In Gulf Countries.
Singapore jobs for Indian graduates
welder – 66 & Steel Structure
TIG / MIG IFCAW – qualified welders
Welder Cum Worker
Sheet metal worker
Driver cum Worker (Landscape work)
General Worker
Ducting Worker
Air-conditioning Maintenance & Installer
All the above listed out vacancies are for Indian nationals. Aspirants who have worked in Singapore companies those can apply Jobs For Singapore From India| Indians | Freshers | Graduates | Operators | Drivers the above Singapore job vacancy 2018. candidates should have worked in the same position in the similar project as described above.
Jobs For Singapore From India consultants
Please forward CV along with documents to the below email
shortlisting in process
7824066610 / [email protected]
91 8939837010 / [email protected]
URGENT REQUIREMENT FOR SINGAPORE COMPANY NAME – UTOC SINGAPORE UTOC ENGINEERING PTE. LTD.CLIENT INTERVIEW DATE 5TH OCT & 6TH OCT 2018.
ONLY SINGAPORE RETURN CANDIDATES
CAN APPLY
ROTATING EQUIPMENT SUPERVISOR
ROTATING EQUIPMENT TECHNICIAN
ROTATING EQUIPMENT FITTER
WELDING 6G TIG
ARC
BENEFITS: ACCOMMODATION FREE, FOOD OWN TRANSPORT & PPE, MEDICAL
INSURANCE FREE
SEND YOUR FULL SET OF cv BEFORE 30TH SEP 2018′
EMAIL ID : [email protected],
3790982685… I 379071 4.1 66, /' T'QSOW'I'TQQ / 9.73071 6366
[email protected] / [email protected]
TAGS-
jobs in singapore for indian nationals
singapore jobs for indians
singapore jobs in india
job in singapore for indian 12th pass
india job vacancy
jobs in singapore for indian graduates freshers
singapore jobs for indian graduates
jobs in singapore for indian graduates
job in singapore for indian 10th pass
how to get job in singapore from india
singapore vacancy for indian
how to get a job in singapore from india
singapore shipyard job interview in chennai
singapore jobs in trichy
job vacancy in india
6g welder jobs in singapore
job in singapore from india
singapore job vacancy for indian 2021
singapore job vacancy for indian
how to apply job in singapore from india
jobs for indians in singapore
jobs in singapore for indians
singapore job vacancy
mechanical engineering jobs in singapore
singapore job vacancy 2021
shutdown jobs in singapore
jobs in singapore for freshers
singapore driver job vacancy for indian 2021
singapore job consultancy in kochi
singapore mechanical jobs
singapore job consultancy
it jobs in singapore for indian nationals
how can i get a job in singapore from india
apply for job in singapore from india
apply job in singapore from india
mechanical engineering jobs in singapore for indian freshers
apply for jobs in singapore from india
job in singapore for indian
singapore hotel jobs for indian
it job in singapore for indian
work in singapore from india
singapore job vacancy for freshers