Ambe consultancy gulf jobs
Post Title
URGENT REQUIREMENT FOR BAHRAIN
Job List and Description Text
RIGGERS – BAHRAIN EXP PREFERED. SALARY – NEGOTIABLE

DIESEL MECHANIC – BAHRAIN EXP PREFERED. SALARY – NEGOTIABLE

WHEEL LOADER OPERATOR – BAHRAIN EXP PREFERED. SALARY –NEGOTIABLE

HYDRAULLIC MECHANIC – BAHRAIN EXP PREFERED. SALARY –NEGOTIABLE

FIREWATCHERS/ HOLEWATCHERS – INDIA EXP – SALARY – 70 + 20 BD + OT.

6G TIG & ARC WELDER – BAHRAIN EXP PREFERED. SALARY –NEGOTIABLE

PIPE FITTER/FABRICATOR – BAHRAIN EXP PREFERED. SALARY – negotiable

PLEASE APPLY IMMEDIATELY IF YOU IN INDIA AND HAVE EXPERIENCE IN OIL & GAS / CONSTRUCTION DIVISION
Walk In Interview in Mumbai
Jobs at Bahrain
Interview Address and Contact Details
Ambe International one stop Recruitment, 507, SHAH AND NAHAR INDUSTRIAL ESTATE DR. E. MOSES ROAD. WORLI NAKA, MUMBAI – 400018

Contact: 7738891023 /7738891024/ 8291096488
Email
[email protected],  [email protected]
Interview Date
31-10-2020
Post Title
URGENTLY REQUIRED FOR BAHRAIN
Job List and Description Text
TOWER CRANE/ MOBILE CRANE/ EXCAVATOR/ BULL DOZER OPERATOR, RIGGER/ RIGGING FOREMAN/ SUPERVISOR, WELDING, AUTO/ DIESEL, WELDING INSPECTOR (CWIP+ BE MECH+ 5 YEARS EXP), MECHANICAL PLANNER- PRIMVERA+5+ YEARS EXP, CAMP BOSS (CAN JOIN IMMEDIATELY+ 5+ YEARS EXP)
Walk In Interview in Mumbai
Jobs at Bahrain
Interview Address and Contact Details
507, shah and nahar indusreial estate, dr. e .mosses road, worli naka, Mumbai

contact number: 918291734621
Email: [email protected]
Interview Date: 31st august
Hope this is the best opportunity for gulf job seekers in Mumbai .One of the leading consultants ambe consultancy khar road  in Mumbai is posted huge list of gulf jobs to gulf job seekers. ambe consultancy vacancies 2020 JOB OPPORTUNITIES For LARGEST SHIPPING COMPANY IN MIDDLE EAST. here list of gulf jobs from ambe consultancy services pvt. ltd. Client interview details is given below for ambe consultancy gulf jobs.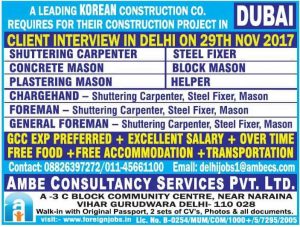 TRAILER DRIVER
HEAVY DRIVER (GCC licence)
LOADER OPERATOR
EXCAVATOR OPERATOR
HOUSE DRIVER
JOB OPERATOR
HEAVY EQUIPMENT MECHANIC
AUTO ELECTRICIAN (HEAVY)
AUTO ELECTRICIAN (LIGHT)
EXCELLENT SALARY +FOOD + ACCOM. + TRIP ALLOWANCE-
AL-SAADEH COMMERCIAL CONSULTANTS
Santacruz(W), Mumbai -400054 ,Email: [email protected]
Tel.: 022-26609564
ambe consultancy gulf jobs FOR A  CONSTRUCTION CO
INTERVIEW IN MUMBAI
MASONS
SHUTTERING CARPENTERS
OPERATORS: EXCAVATORS, SKID STEER LDADER,SHOVEL, DOZER, ROLLER, GRADER, TELE HANDLER,
CRANE, FORKLIFT, CONCRETE PUMP
STEEI. FIXERS
DRIVERS: HEAVY DUTY, LIGHT DUTY
DIESEL MECHANIC
MIN 4 YRS GULF EXP & ABOVE.
OPERATORS & DRIVERS
Should have Gcc Original Valid Lic (Except KSA)
Contact: 022-42416233 Email: [email protected]
Walk-in with Original Passport, 2 sets of CV's, Photograph & all documents.
AMBE CONSULTANCY SERVICES PVT. LTD
.
6TH FLOOR,AMORE BUILDING,2 & 4 ROAD,NR RAILWAY STATION, KHAR road (W),MUMBAI- 52
SEARCH words for more gulf jobs
ambe consultancy walk in interview 2021
ambe consultancy walk in interview 2022
ambe international job vacancy in gulf 2021
ambe consultancy gulf jobs 2021
ambe consultancy mumbai iraq job
ambe consultancy mumbai iraq job 2021
ambe consultancy gulf jobs 2020
ambe consultancy mumbai current vacancy
ambe international job vacancy in gulf 2020
ambe international job vacancy in gulf
ambe consultancy mumbai vacancy
ambe international job vacancy in gulf 2022
ambe consultancy job vacancy
ambe consultants chandigarh
ambe consultancy mumbai
ambe international gulf job
ambe consultancy delhi
ambe consultancy services pvt ltd
ambe consultancy chandigarh
ambe international khar road
ambe consultancy khar
ambe consultancy gulf jobs 2022
ambe consultancy mumbai recruitment
ambe consultancy
archirodon construction company new vacancy
ambe consultancy chennai
parveen travels driver vacancy
ambe international fb
ambe consultancy chandigarh contact number
ambe international mobile number
ambe consultancy services
ambe international chandigarh
ambe consultancy walk in interview
ambe international khar
essar oil walk in interview
ascent consulting services pvt ltd
ambay consultants chandigarh
ambe consultancy kochi
ambe international
ambe international delhi
ambe international cochin contact number
ambe consultancy current openings
ambe international bahrain
gulf times qatar jobs
manik travels jobs
urgent driver jobs in bahrain
ambe consultancy khar road
house driver jobs in bangalore with contact number
kapoor diesel logistics job
al saadeh
excavator mechanic near me
ambe consultancy office mumbai
i want driver job
gulf job vacancy 2020