ITI JOBS IN CHENNAI.
LIST OF VACANCIES AND JOB DESCRIPTION ARE GIVEN. SALARY DETAILS ALSO PROVIDED. SEND THE CV TO THE GIVEN MAIL ID. APPLY DIPLOMA ITI TECHNICIAN JOBS IN CHENNAI.
Download all Gulf jobs. Check the Below Video to get the latest Gulf jobs Don't miss Check this video for the latest job posting
ITI jobs WALKIN INTERVIEWS in chennai
IMDAAD COMPANY DUBAI . FACILITIES MANAGEMENT .DUBAI AIRPORT JOBS ARE POSTED. MAINTENANCE WORK IN DUBAI. CLIENT INTERVIEWS IN CHENNAI HUGE VACANCIES  ARE POSTED IN JOBSATGULF .
Download all Gulf jobs. Check the Below Video to get the latest Gulf jobs Don't miss Check this video for the latest job posting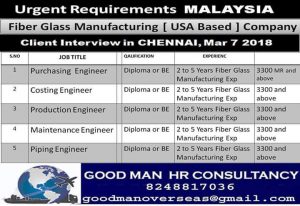 Jobsatgulf posted iti jobs