FREE RECRUITMENT
CLIENT INTERVIEW AT MUMBAI, HYDERABAD &.
CHENNAI BY LAST WEEK OF DECEMBER, 2016
require for Fire Protection Division
Dear Job Aspirant,

Shine.com is flooded with more than 3,00,000 jobs from 14,000+ companies. Some of India's biggest
companies such as Samsung, Koc Kuwait, Saudi Aramco, Dubai Metro, Qatar Industries, Qatar Airways,QAFCO, are currently
keen to hire experienced candidates like you.

APPLY NOW

Since thousands of candidates are applying to these jobs and trying hard to get noticed by recruiters,
please ensure your profile is updated with your latest details.

We look forward to helping you build a great career.

Warm Regards,
Prerna 
Work in Saudi Arabia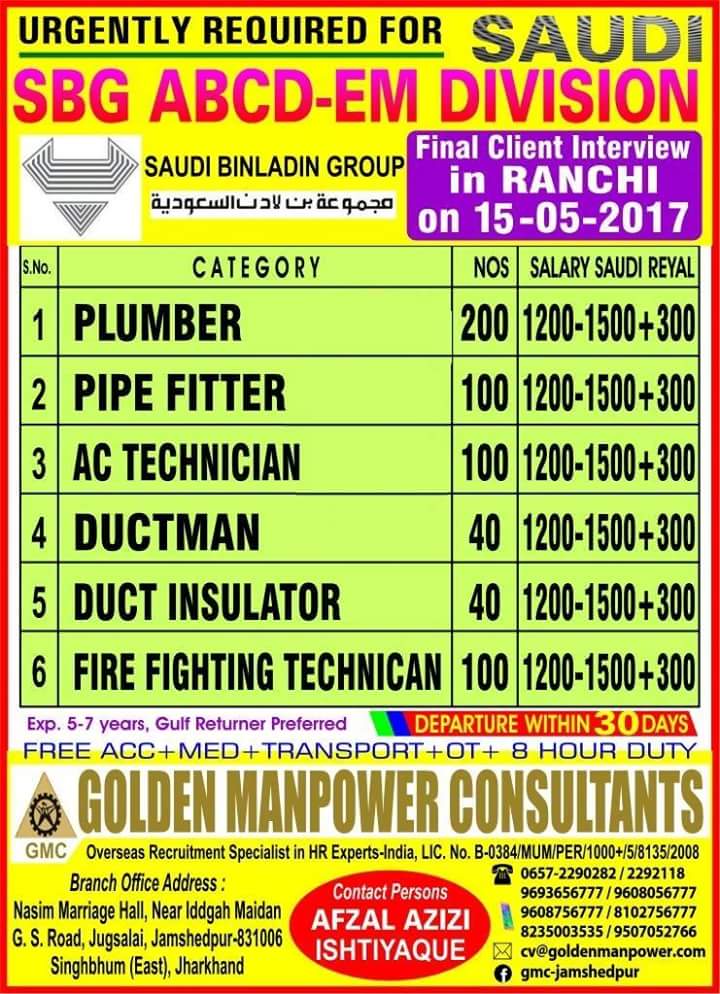 MECHANICAL SUPERVISOR .IRE12429
Diploma in HVAC or Mechanical Engineering. 5 years of
supervisory experience in HVAC Projects. Basic AutoCAD
Proficiency. Ability to read blueprints / technical diagrams
of HVAC equipment and systems.
0 ElECTRlCAl SUPERVISORS .IRE1243O
Diploma in Electrical Engg. Min. of 5 years exp. in Industri-
al Electrical systems, layout drawings, single line diagram,
and control wiring diagram, vendor drawings and manuals,
installation of cable tray and conduit, Power and control
cable, Junction Boxes, Distribution Board, control devices
and panels in Hazardous 8. Non Hazardous Areas of the
Building as per approve drawing.
0 FIRE PROTECTION SUPERVISORS .IREI I996
Diploma! lTl with Min. 9 yrs. Project Exp. of installation,
erection and construction of fire protection systems (fire
Fighting, Hre Alarm and Fire Suppression system)
0 DUCT INSTAllERS .IREI I997
Trade Test Certificate or Diploma with 2 years working ex-
perience in installation of different types of duct, exhaust
fans and air handlers preferably at a HVAC construction
engineering company. Basic knowledge of design.
0 WElDERS- 66 .IREI I998
Trade Test Certifimte or Diploma or IT] with 2 years' expe-
rience in welding works.
0 PIPE EITTERS- Copper .IRE12003
Diploma or ITI with 3-5 years' work experience as copper
Pipe Fitter HVAC Industry or Construction Company.
0 INDUSTRIAL ElECTRICIANS .IRE12005
Diploma or ITI with 2 years' work experience in industrial
Electrical/Mechanical works.
0 FIRE PROTECTION TECHNICIANS .IRE12006
Diploma or ITI with 2 years' work experience as a Fire Pro-
tection or Fire Fighting Technician.
0 BRAIERS- Copper .IRE12007
Trade Test Certificate or Diploma or ITI 2 years' experience
in Copper brazing works.
CONTACT DETAILS
«J13 RRY VARGHESE
Jerry Varghoso International Ltd.,
206, Gateway Plaza, Hiranandani Garden, Powai,
Mumbai – 76. . Tel: 1122-5734172:
0 Email: jvloonetructionZiji-global.oom
Hyderabad – Email: hydretaiIZOjvi-globalcom
Tel: 040 – mason I 2373th
Chennai – Email: chmnaimanufacunigéivi-globalcom
chennairetailevi-gobalcom
Tel.: 04442268911308.
THIS WEEK SAUDI ARABIA JOBS. LIST OF JOB POSTING ARE HERE. HUGE VACANCIES. SEND THE CV TO GIVEN MAIL ID. BEST JOBS TO WORK IN SAUDI ARABIA.