Find exclusive event jobs in your area
Shutdown Jobs in Kuwait 2019
KUWAIT SHUTDOWN JOBS  HUGE VACANCIES.SHUTDOWN JOBS IN KUWAIT. CLIENT INTERVIEW  2019 APPLY SOON.
Download all Gulf jobs. Check the Below Video to get the latest Gulf jobs Don't miss Check this video for latest job posting Check this video for latest job posting
Urgently required for a leading Company
Client Interview on 07.02.2019 at Chennai
3 MONTH SHUTDOWN / Shut Down Exp Must
1, General Fitter 70 + 10 KD
2. Industrial Labour 60 +5 KD
B Hrs + Food + OT + Accommodation
— This Recruitment only for South Indian People
If suitable please call to Jaffar
Mob : 7092178714 / 8525096088 mail: mejobs2@gmail.com
_- Faw ITO Be >
ww meets NO.1, Ulagappan Street, Chindadripet, Chennai – 600 002 |
OPPORTUNITIES ABROAD
KUWAIT Shutdown jobs     Shut-down jobs
Nominal Service Chars e -CONTACT AT one:
Client INTERVIEWS
Latest Shutdown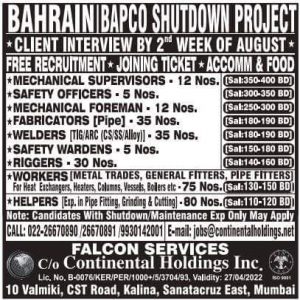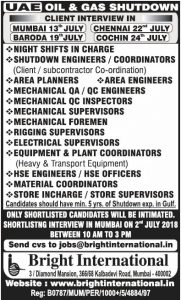 shutdown jobs in Kuwait
Scaffolders
Refractory Mason
Sheet Metal Fitter
Insulators

 
Beside Good Solo Como. Provides : Foods+ OT + Accom.+ TranSo.+ Medical 8. lnsu.
TREHAN INTERNATIONAL CONSLT. & ENGG. PVT. LTD.
M b ' 0-109, prystal Plaza, Opp. Infinity Mall,
21A"9(8un) 022-45655000 9833380067
Delhi Trehan Business Arcade, 103, Hing Road, Raia Garden
22 Au (Mon) 01 1 45655090 281 65000
shutdown jobs in gulf
Related searches

shutdown jobs in kuwait 2017
kuwait shutdown jobs
shutdown work in kuwait
qcon shutdown interview 2017
shutdown jobs in kuwait
kuwait shutdown jobs 2017
shutdown jobs 2017
shutdown jobs in gulf 2017
shutdown vacancies in gulf 2017
gulf shutdown jobs 2017
shutdown jobs in kuwait 2016
gulf shutdown jobs
poclain operator wanted
poclain operator resume
shutdown jobs in gulf countries
shutdown vacancies in gulf
shutdown job in gulf 2017
shutdown job vacancy
shutdown job in gulf
gulf job kuwait
dodsal kuwait vacancies 2017
shutdown jobs in india
shutdown jobs in gulf
rasgas vacancies 2017
gulf jobs kuwait
find jobs in kuwait
kuwait vacancy 2017
helper job in kuwait
equate kuwait shutdown 2015
kuwait jobs salary
shutdown jobs 2016
shutdown vacancies

check this