TECHNICIAN JOBS
TECHNICIAN JOBS IN KUWAIT FOR UNITED ENGINEERING SERVICES CO.WLL KUWAIT.
Client Interviews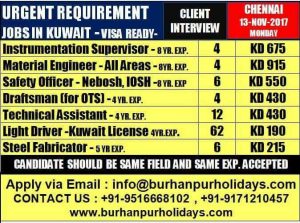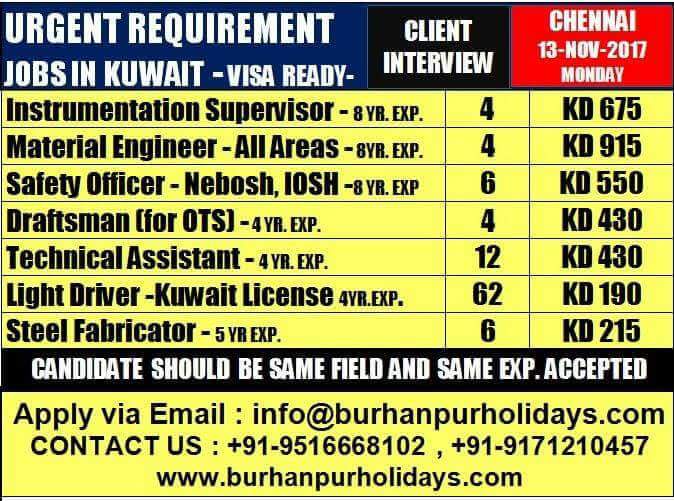 TECHNICIAN JOBS IN KUWAIT APPLY HERE
01 GENERAL FOREMAN (3 yrs. Diploma+15 yrs. exp)220 KD
02 HVAC FOREMAN
03. ELECTRICAL FOREMAN
O4 MECHANICAL FOREMAN
Sr. No. 02 to 05 should have 3 yrs. Diploma + 10 yrs. Exp.
05 LOW VOLTAGE (LV) FOREMAN
06. DRAFTSMAN
07 PLUMBING FOREMAN
08. HVAC TECHNICIAN
09 ELECTRICAL TECHNICIAN
10. STORE KEEPER
11 CONTROL TECHNICIAN
12. BMS TECHNICIAN
13 TELEPHONE TECHNICIAN
14. BMS OPERATOR
15 LV TECHNICIAN
16. DG TECHNICIAN
17. WELDER
18 ELEVATOR TECHNICIAN
19. MECHANICAL TECH.
20 FILLING MECHANICAL TECHNICIAN
21.PLUMBER
Sr. No. 06 to 21 should have Diploma/Certificate+10 yrs. Exp.
22 DRIVER (HEAVY) Kuwaiti Driving License
23 DRIVER (LIGHT) Kuwaiti Driving License
24 ASSISTANT ELECTRICIAN Dip./Cert.+5 yrs. Exp.
25 ASSISTANT PLUMBER HSC/Diploma+5 yrs. Exp.
26 ASSISTANT AC MECHANIC HSC/Diploma+5 yrs. Exp.
http://jobsatgulf.org/job/iik-jobs/
1) CV Selection & Client Interview.

2) PCC compulsory.
3) If any candidate failed in there work and came back to India
then it will be not our responsibility.
Download all Gulf jobs. Check the Download Button to get the latest Gulf jobs Don't miss Check this video for latest job posting
ALL THE TERMS & CONDITIONS WILL BE AS PER THE KUWAIT LABOUR LAW.
Download all Gulf jobs. Check the Download Button to get the latest Gulf jobs Don't miss Check this video for latest job posting
AL – SHIFA OVERSEAS
Office No.3. Ground Floor, Homayya Building, Behind Hotel,Heritage,177/187 Khambata Lane, Dr.B.A. Rd, Byculla(E),Mumbai-27 Tel.23733144/23734144/65260173 Mob.9323095623
DELHI OFFICE:AL-ZIYARAH INTL..Ph:011-26928769 .159-C, 2nd Floor, Opp. Escort Hospital. Sarai Jullena,N.Delhi
E-mail:al_shifaoverseas@yahoo.com