ANUPTECH INTERVIEWS Mumbai Vadodara Rable Gorakhpur
THIS MONTH ANUPTECH INTERVIEWS 2017 – 18. KNPC LONG TERM PROJECT UNDER A REPUTED Co.CLIENT INTERVIEW IN MUMBAI AT anuptech consultancy as per the interview scheduled Interviews will be held in anuptech consultancy offices at Baroda, mumbai, rabale , Vadodara, Gorakhpur. Huge Vacancies are available for anuptech gulf job interviews.contact any anuptech consultancy which is nearer to your location. Apply your relevant gulf job vacancy list in the below image
Dear Job Aspirant,

Shine.com is flooded with more than 3,00,000 jobs from 14,000+ companies. Some of India's biggest
companies such as Samsung, Koc Kuwait, Saudi Aramco, Dubai Metro, Qatar Industries, Qatar Airways,QAFCO, are currently
keen to hire experienced candidates like you.

APPLY NOW

Since thousands of candidates are applying to these jobs and trying hard to get noticed by recruiters,
please ensure your profile is updated with your latest details.

We look forward to helping you build a great career.

Warm Regards,
Prerna 
ANUPTECH TECH. INSTITUTE, R – 421, TTC Industrial Estate MIDC Rabale Navi Mumbai – 400701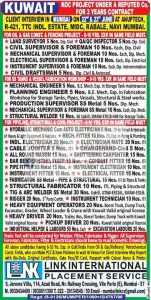 KUWAIT KNPC SHUTDOWN PROJECT
UNDER A REPUTED Co. FOR
30 – 40 DAYS, FREE FOOD & ACCOM.
Anuptech interviews 2018
CLICK HERE TODAY GULF JOB VACANCIES HUGE JOBS

C- 38, KRISHNA INDL. ESTATE, OPP. 8.I.D.C, GORYIA. BARODA
8 IN MUMBAI ON 11″I JAN, AT ANUPTECH, R – 421,
TTC INDUSTRIAL ESTATE MIDC, RABAL NAVI MUWAI I
HEAVY EQUIPMENT ENGINEER 3 Nos. B.E. Mach! I
Automobile. Good exp. in Rigging Plant & handling heavy I
equipments in Industrial sectors. * MECHANICAL ENGR. I
LUMPSUM 8 Nos. B.E. Mach. * SUPERVISOR I
MECH. MAINT. 60 Nos. B.E. I Dip. Mach. * SUPERVISOR
ROTATING 10 Nos. Dip. Mach. Ir SUPERVISOR I
RIGGING 75 Nos. Dip. Mach. Ir SUPERVISOR – I
WELDING & FABRICATION 25 Nos. B.E. I Dip. Mach. I
SUPERVISOR – MECH. HEAT EXCHANGER 3 Nos. I
B.E.I Dip. Mach. * SUPERVISOR SCAFFOLDING 10 Nos. I
SAFETY SUPERVISOR 20 Nos. B.E. IDip. Mach!
Chemical OR B.Sc. Physics, Maths 8 Chemistry + Nebosh certified. I
ROTATING EQUIPMENT MECHANIC 45 Nos. Dip. Mach. I
PIPE FABRICATOR 45 Nos. Knowing Drawing I
RIGGER 130 Nos. * 6G TIG & ARC WELDER I
80 Nos. 28 (6" SCH, 80 CS, Pipe with E6010 I 'E7018), 2D I
(6"SCH, 80 CS, Pipe with ER70 S – 2 I E7018), 3A (2" SCH,
80 CS, Pipe with ER308 I 5308), 4A (2" SCH, 80 CS, Pipe I
with ER 808 – 86 I E8016 – 86) if MACHINIST 12 Nos. I
Has to pass trade testof Mild Steel Round of 40 mm 8 120 mm long I
GENERAL FITTER 500 Nos. * HYDROJETTER I
50 Nos. * SCAFFOLDERS 75 Nos. * LAGGER I
15 Nos. * HEAVY DRIVER 20 Nos. Holding
Kuwait/GCC valid license * HEAVY EQUIPMENT I
OPERATOR EXCAVATOR, FORKLIFT 8. JCB 10 I
Nos. All rounder * MOBILE I CRAWLER CRANE I
OPERATOR 5 Nos. Holding Kuwait I GCC valid license I
KN PC FOR LONG TERM JOB
HVAC SUPERVISOR 8 TECHNICIAN 3 Nos. each
B.Tech I Dip.I lTI HVAC, min 6 to 8 yrs exp. in maint. of VRF 8 I
Package HVAC, repair split & window air – cond. In Gulf is must. I
CIVILI LANDSCAPING SUPERVISOR 3 Nos. B.Tach.I I
Dip. Civil, min 6 to 8 yrs exp. in main. of Multi storied Building, I
Industrial, MEP, Road ICulvert, Landscaping in Gulf is must. I
CAIDIDATES HAVING 5 – 1oYRS. EXP. IN GULF I INDIA
mom OII. A GAS I REFINIY I PETROCHlAICAL FIE.D, 4
WHO CAN MAKE POC 8 HAVE PATTENCE To WAIT AT VBIUE i
FOR CLIENT INTERVIEW MAY REPORT WTTH ORIGINAL 4
PASSPORT, BID – DATA, CERTIFICATES WITH XEROX 8 PHOTO.
MRI-"K LlN K INTERNATIONAL 4
PLACEMENT SERVICE.
Heroine Vila, 114, Marl Road, llr. Railway Crossing. We Part (E), lAmM' -57
11.99304344N1022-2618454oI5oEmil-m if
PLANNING ENGINEER 3 Nos. B.E. Mech. * ELECTRICAL
FOREMAN 5 Nos. Dip. Electl. * INSTRUMENT FOREMAN
5 Nos. Dip. Inst. * MECHANICAL FOREMAN 15 Nos.
Dip. Mech. * GENERAL FOREMAN 10 Nos. Dip. Mech.
It TANK WELDER GG TIG & ARC 30 Nos. SMAW, Root,
Hot, Capping, Back Weld, Filling – E7018 * TANK
FABRICATOR 30 Nos. * FITTERS FOR TANKS 30 Nos.
It: RIGGER 30 Nos. * SPRAY PAINTER 25 Nos.
It! SAND BLASTER 25 Nos. * STRUCTURE FABRICATOR
25 Nos. * SHUTTERING CARPENTER 25 Nos.
ALL ROUND MASON 25 Nos.* STEEL FIXER 25 Nos.
INSTRUMENT FITTER 15 Nos. * SCAFFOLDER
100 Nos. * HELPER / INDUSTRIAL LABOUR 50 Nos.
Petrochemical Construction Industry 8: who can make PCC, may Report
with Original Passport, Bio – data, Certificates With Xerox & Photo
LINK INTERNATIONAL
PLACEMENT SERVICE .2
5, Jerome Villa, 114, Azad Road, Vile Parle (E), Mumbai – 57
(II. 09930811390 . 02226134540 / 50
anuptech baroda
anuptech baroda interview schedule 2017
anuptech
anuptech rabale
anuptech baroda interview schedule
anuptech mumbai
anuptech client interview
anuptech interview 2017
anuptech rabale interview 2017
anuptech interview 2017 vadodara
anuptech baroda office
anuptech consultancy baroda
anuptech rabale interview
anuptech interview
anup tech
anuptech vadodara
anuptech office vadodara
anuptech in mumbai
anuptech office
anuptech gorakhpur
anuptech baroda interview 2017
anuptech rabale navi mumbai address
anuptech consultancy
anuptech vacancy
walk in interview in vadodara for gulf
anuptech baroda interview
gulf interview in baroda
anuptech mumbai office
knpc interview 2017
gulf job interview in vadodara
anuptech vadodara interview
anuptech navi mumbai, maharashtra
anup tech baroda
anuptech courses
anuptech mumbai address
www.anuptech.com
anuptech gorwa
anuptech technical and trade accreditation institute vadodara, gujarat
anuptech navi mumbai
anuptech rabale navi mumbai
kuwait steel plant interview dates
gulf interview in gorakhpur
anuptech consultancy vadodara
anuptech baroda contact
anuptech rabale 421
anup tech rabale
jobsatgulf 2017
anuptech consultancy mumbai
anuptech equipment pvt ltd navi mumbai, maharashtra
anuptech baroda address
anuptech equipment pvt ltd
anuptech vadodara contact no
gulf job interview in gorakhpur
gulf interview in mumbai 2017
client interview in mumbai for gulf 2017
jobsatgulf address
knpc job vacancy
mumbai rabale
anuptech test center
gulf job interview in mumbai 2017
knpc shutdown 2017
walkin interview for gulf
knpc kuwait vacancies 2017
gulf walk in interview
anuptech technical institute
gulf job walkins in mumbai 2017
walkin interview for gulf jobs
anuptech rabale address
anuptech equipment pvt ltd navi mumbai, maharashtra 400701
knpc recruitment in india
anuptech institute
rabale navi mumbai
knpc kuwait vacancies
knpc job ANUPTECH INTERVIEWS